Secret Vienna nasce dall'amore per la storia di Vienna e dal desiderio di offrire un'esperienza unica che sia i turisti che i locali possano godere. La nostra ambizione è far innamorare i nostri esploratori della città e apprezzare gli innumerevoli tesori e segreti nascosti.
Secret Vienna è stata fondata come blog nel 2016 ed è rapidamente cresciuta fino a diventare una grande comunità di amanti della storia che volevano saperne di più su questa magnifica città. Nel 2017 abbiamo deciso di offrire tour alla nostra comunità, lentamente ma inesorabilmente siamo cresciuti e ampliati. Con oltre 15 guide turistiche autorizzate ora offriamo tour ed esperienze in 12 lingue.
Speriamo davvero che anche tu ti unirai a noi, entrerai a far parte della nostra entusiasmante storia ed esplorerai con noi gli incredibili segreti di Vienna.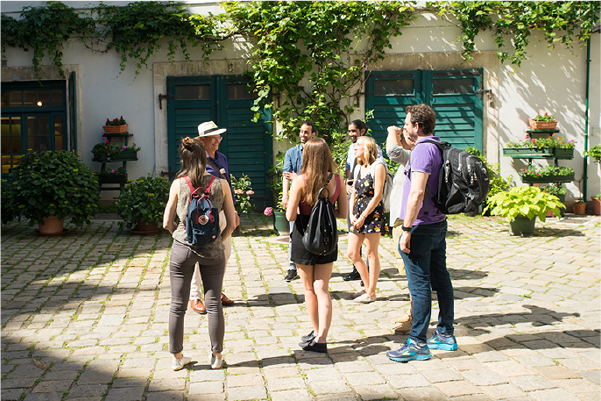 Abbiamo sempre visto Secret Vienna come un'opportunità per far innamorare le persone della storia e farsi emozionare da essa. Miriamo a farlo attraverso storie affascinanti e poco conosciute e soprattutto attraverso tour a tema unico.
Crediamo davvero che conoscere ed esplorare la nostra storia, così come la storia di altre nazioni e siti, arricchisca le nostre vite e ci offra una nuova prospettiva sul mondo variegato in cui viviamo. Il nostro obiettivo finale è trasformare il modo in cui vedi ogni strada o edificio a Vienna attraverso la conoscenza degli eventi storici accaduti qui secoli fa. Non vediamo l'ora di vedervi a darvi il benvenuto presto!
Nella realtà in cui viviamo oggi, in cui le vacanze sono la chiave della nostra felicità e soddisfazione, la tua indimenticabile visita a Vienna è la nostra massima priorità.
Abbiamo dedicato molta attenzione e impegno alla progettazione dei nostri tour in modo che siano divertenti, coinvolgenti e rivelatori. Le nostre guide sono tutti narratori appassionati che dedicano la loro vita a portare persone come te in incredibili viaggi attraverso le antiche strade della nostra città. I segreti di Vienna ti aspettano per essere scoperti! 
Sia che tu stia cercando di unirti a un gruppo o di prenotare un tour privato per la tua attività di team building, un evento familiare o un'escursione educativa, ci pensiamo noi! 
Il nostro gruppo di dirigenti
Sagi Zilbershatz
History and writing are my biggest passions and i love sharing them with others through our blog, our creative content and our fascinating tours in Vienna. As the CEO, my mission is to enrich your life or stay in our city and to uncover together the secrets of Vienna!
Vivian Fernandes Pellegrini Cortez
As a content creator and designer I share my passion to art, history and culture through our social media accounts and our blog. I'm in charge of our content design and take care of our marketing.
LE NOSTRE FANTASTICHE GUIDE TURISTICHE
ALLORA... UNISCITI A NOI E SCOPRI I SEGRETI DI VIENNA
Stai cercando un emozionante tour privato?
Prenota un tour per il tuo prossimo evento privato, conferenza o attività di team building.
Informazioni e consigli utili per la vostra visita a Vienna