Secret Vienna est né d'un amour pour l'histoire de Vienne et d'un désir d'offrir une expérience unique à la fois aux touristes et aux locaux. Notre objectif est que nos explorateurs tombent amoureux de Vienne et apprécient ses secrets ainsi que ses innombrables trésors cachés.
Secret Vienna a été fondé en 2016 en tant que blog et s'est rapidement développé en une large communauté de grands amateurs d'histoire, voulant en savoir davantage sur cette magnifique ville. En 2017, nous avons décidé de proposer des tours guidés à notre communauté, et, doucement mais sûrement, nous nous sommes agrandis. Avec pas moins de 15 guides, nous proposons désormais nos tours et expériences dans 12 langues différentes.
Nous espérons sincèrement que vous aussi nous rejoindrez dans cette aventure palpitante pour explorer ensemble les incroyables secrets de Vienne.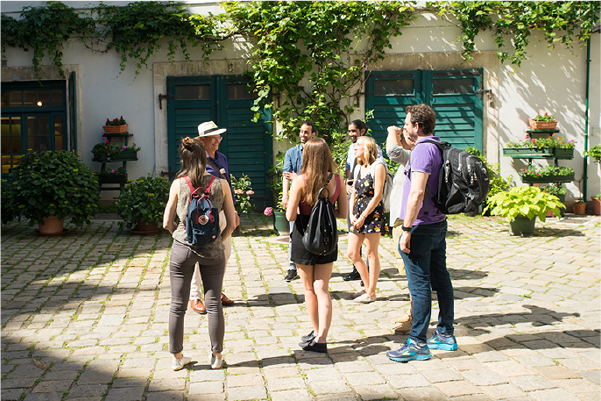 Nous avons toujours perçu Secret Vienna comme une occasion pour nous de faire tomber les gens amoureux et d'être passionnés par l'histoire. Nous visons à le faire à travers des histoires fascinantes, moins connues et surtout à travers des visites thématiques uniques.
Nous pensons sincèrement que connaître et explorer notre propre histoire, en plus de l'histoire des autres lieux et nations, enrichit nos vies et nous donne une toute nouvelle perspective sur la diversité du monde dans lequel nous vivons. Notre but ultime est de transformer la manière avec laquelle nous regardons chaque rue ou bâtiment à Vienne grâce aux connaissances sur les événements historiques ayant eu lieu il y a plusieurs siècles. Nous avons hâte de vous voir et de vous accueillir !
Dans le monde dans lequel nous vivons aujourd'hui, où les vacances sont la clé du bonheur et de l'épanouissement, votre visite inoubliable à Vienne est notre priorité numéro une.
Nous avons mis beaucoup de réflexion et d'effort dans la conception de nos visites pour qu'elles soient amusantes, divertissantes ainsi qu'un plaisir pour les yeux. Nos guides sont tous des conteurs passionnés qui consacrent leur vie à emmener des gens comme vous dans des voyages incroyables à travers les rues anciennes de notre ville. Les secrets de Vienne vous attendent !
Que vous cherchiez à rejoindre un groupe ou à réserver une visite privée pour votre activité de formation d'équipe, un événement familial ou une excursion éducative, nous avons ce qu'il vous faut !
Sagi Zilbershatz
History and writing are my biggest passions and i love sharing them with others through our blog, our creative content and our fascinating tours in Vienna. As the CEO, my mission is to enrich your life or stay in our city and to uncover together the secrets of Vienna!
Vivian Fernandes Pellegrini Cortez
As a content creator and designer I share my passion to art, history and culture through our social media accounts and our blog. I'm in charge of our content design and take care of our marketing.
Nos merveilleux guides touristiques
Alors…rejoignez-nous et découvrez les secrets de Vienne!
Vous cherchez une visite privée palpitante?
Réservez une visite pour votre prochain événement privé, conférence ou activité de formations d'équipe.