Secret Vienna nació del amor por la historia de Viena y del deseo de ofrecer una experiencia única que puedan disfrutar tanto los turistas como los habitantes de la ciudad. Nuestra ambición es hacer que nuestros exploradores se enamoren de la ciudad y aprecien sus innumerables tesoros y secretos ocultos.
Secret Vienna se fundó en 2016 como un blog y rápidamente se convirtió en una gran comunidad de amantes de la historia que querían saber más sobre esta magnífica ciudad. En 2017 decidimos ofrecer tours a nuestra comunidad y, poco a poco, crecimos y nos expandimos. Con más de 15 guías turísticos con licencia, ahora ofrecemos tours y experiencias en 12 idiomas.
Realmente esperamos que usted también se una a nosotros, forme parte de nuestra emocionante historia y explore con nosotros los increíbles secretos de Viena.
Secret Salzburg
Y si le encantan nuestros visitas guiadas por Viena, también puede unirse a nosotros para explorar Salzburgo en español.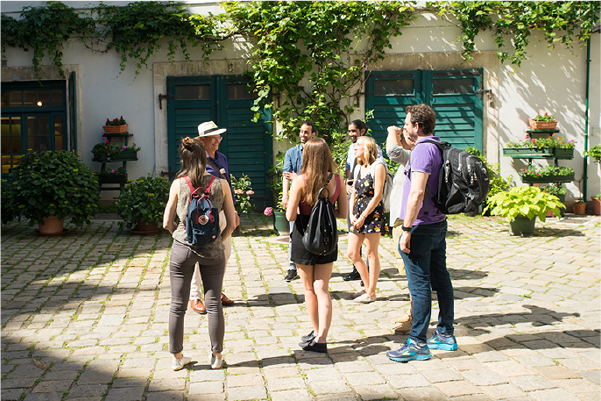 Siempre hemos visto a Secret Vienna como una oportunidad para que la gente se enamore y se emocione de la historia. Pretendemos hacerlo a través de historias fascinantes y menos conocidas y, sobre todo, mediante visitas temáticas únicas.
Estamos convencidos de que conocer y explorar nuestra propia historia, así como la de otras naciones y lugares, enriquece nuestras vidas y nos da una nueva perspectiva del diverso mundo en el que vivimos.  Nuestro objetivo final es transformar la forma de ver cada calle o edificio de Viena mediante el conocimiento de los acontecimientos históricos que ocurrieron aquí hace siglos. ¡Estamos deseando verle y darle la bienvenida pronto!
En la realidad que vivimos hoy en día, en la que las vacaciones son clave para nuestra felicidad y realización, su inolvidable visita a Viena es nuestra máxima prioridad.
Nos esforzamos mucho en diseñar nuestros tours para que sean divertidos, entretenidos y que abran los ojos. Todos nuestros guías son apasionados narradores que dedican su vida a llevar a personas como usted en increíbles viajes por las antiguas calles de nuestra ciudad. Los secretos de Viena le esperan para ser descubiertos.
Tanto si quiere unirse a un grupo como si quiere reservar una visita privada para una actividad de formación de equipos, un evento familiar o una excursión educativa, tenemos todo lo que necesita. 
Sagi Zilbershatz
History and writing are my biggest passions and i love sharing them with others through our blog, our creative content and our fascinating tours in Vienna. As the CEO, my mission is to enrich your life or stay in our city and to uncover together the secrets of Vienna!
Vivian Fernandes Pellegrini Cortez
As a content creator and designer I share my passion to art, history and culture through our social media accounts and our blog. I'm in charge of our content design and take care of our marketing.
Nuestros increíbles guías turísticos
Así que... ¡acompáñenos y descubra los secretos de Viena!
¿Busca una emocionante visita privada?
Reserve una visita para su próximo evento privado, conferencia o actividad de formación de equipos.
Información útil y consejos para su visita a Viena