Secret Vienna nasceu do amor pela história de Viena e do desejo de oferecer uma experiência única que turistas e locais possam desfrutar. A nossa ambição é fazer com que os nossos exploradores se apaixonem pela cidade e apreciem os seus inúmeros tesouros e segredos escondidos.
O Secret Vienna foi fundado em 2016 como um blog e rapidamente se transformou em uma grande comunidade de amantes da história que queriam saber mais sobre esta magnífica cidade. Em 2017 decidimos oferecer passeios à nossa comunidade e aos poucos fomos crescendo e expandindo. Com mais de 15 guias turísticos licenciados, agora oferecemos passeios e experiências em 12 idiomas.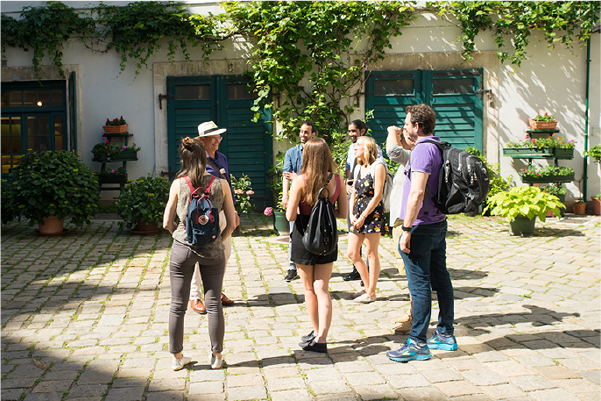 Sempre vimos a Secret Vienna como uma oportunidade para fazer as pessoas se apaixonarem e se emocionarem pela história. Nosso objetivo é fazê-lo por meio de histórias fascinantes e menos conhecidas e principalmente por meio de passeios temáticos exclusivos.
Nós de fato cremos que conhecer e explorar nossa própria história, tal qual a história de outras nações e locais, enriquece nossas vidas e nos dá uma nova perspectiva sobre o mundo diverso em que vivemos. Nosso maior objetivo é transformar a maneira como você vê cada rua ou edifício em Viena, através do conhecimento de eventos históricos que aqui ocorreram séculos atrás. Mal podemos esperar para vê-lo e recebê-lo em breve!
Na realidade em que vivemos hoje, em que as férias são a chave para nossa felicidade e realização, a sua visita inesquecível a Viena é nossa prioridade.
Pensamos e nos esforçamos muito em projetar nossos passeios para serem divertidos, descontraídos e reveladores. Nossos guias são apaixonados contadores de histórias, que dedicam suas vidas para levar pessoas como você em viagens incríveis pelas ruas antigas de nossa cidade. Os segredos de Viena esperam por você para serem descobertos!
Independente se você deseja ingressar em um grupo ou reservar um tour privado para sua atividade de team building, evento familiar ou excursão educacional, temos o que você precisa!
Sagi Zilbershatz
History and writing are my biggest passions and i love sharing them with others through our blog, our creative content and our fascinating tours in Vienna. As the CEO, my mission is to enrich your life or stay in our city and to uncover together the secrets of Vienna!
Chiara-Marie Hauser
As a historian I literally live for the secrets of our city and so with Secret Vienna I got the unique opportunity to make my love my profession. I write the historical articles on our blog and take care of our marketing.
Os nossos fantásticos guias turísticos
AGORA... JUNTE-SE A NÓS E DESCUBRA OS SEGREDOS DE VIENA!
Está procurando um emocionante tour privado?
Agende um tour para o seu próximo evento privado, conferência ou atividade de team building.
Informações úteis e dicas para sua visita a Viena