Secret Viennaは、歴史溢れるウィーンをこよなく愛するメンバーたちの集まりから発足しました。観光客も地元の人も楽しめる体験を提供したいという思いから、ウィーンに隠れている数え切れないほどの魅力をお伝えするツアーを展開しています。 Secret Viennaは2016年にブログとして設立され、その後まもなくこの偉大な都市についてもっと知りたいと願う歴史愛好家たちが集う大規模なコミュニティーへ成長しました。2017年、私たちはツアーの提供に踏み切り、ゆっくりではありますが確実に成長を続けてきました。現在では15名以上の資格を持つツアーガイドが常駐し、12ヶ国語で様々なツアーを提供しています。皆様もぜひ私たちのツアーに参加して、他では味わえないウィーンの魅力を一緒に感じてみませんか?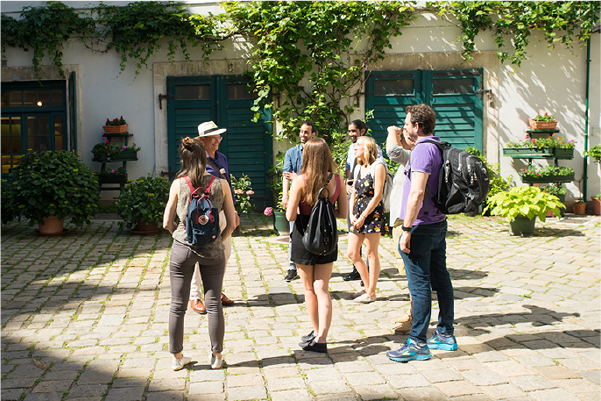 Secret Viennaではより多くの人に歴史に触れることの楽しさを知ってもらうため、他では取り上げられないような歴史的背景や個性的なテーマを扱ったツアーを実施しています。自国にとどまらず、他国の歴史や観光地を知り、見て回ることは全く新しい視点を与えてくれます。そして、その知識は私たちの人生をずっと豊かにしてくれるのです。 私たちの最終目標は、何百年も前に起きた歴史的な出来事を知ることで、ウィーンの風景がまるで違って見える面白さを知ってもらうことです。皆様の参加を楽しみにお待ちしています!
お客様に満ち足りたバケーションを過ごしていただくためにも、一生の思い出になるようなウィーン観光のお手伝いをするのが私たちの仕事です。 私たちの提供するツアーは、楽しいだけでなく、思わず目を見張るような体験ができることを大切に工夫を凝らした内容になっています。チームのガイドたちは全員が経験豊富な語り手であり、ウィーンの古い町並みを巡る素晴らしい旅へ皆さんを案内することに情熱を注ぐプロフェッショナルです。ウィーンの隠された魅力があなたを待っています! 家族旅行や社員旅行、修学旅行など、グループでの参加はもちろん、プライベートツアーのご予約も承っております! 
Sagi Zilbershatz
History and writing are my biggest passions and i love sharing them with others through our blog, our creative content and our fascinating tours in Vienna. As the CEO, my mission is to enrich your life or stay in our city and to uncover together the secrets of Vienna!
Vivian Fernandes Pellegrini Cortez
As a content creator and designer I share my passion to art, history and culture through our social media accounts and our blog. I'm in charge of our content design and take care of our marketing.
さあ、私たちと一緒にウィーンの秘密を見つけに行きましょう!
思い出に残る素敵なプライベートツアーをお探しですか?
大切な記念日はもちろん、会議や社員旅行などにも最適です。ぜひご予約ください。