The Stefaniewarte – a must visit spot
Perhaps visitors to Vienna notice that part of the city is surrounded by hills. If you walk, for example, east from the Stephansdom there is no chance you will miss them. It is likely that the most famous hill in the city is the Kahlenberg. You can find it in the district of Döbling. With a height of 484 meters, this hill is famous among visitors and locals alike. The hill offers a great view of the city and once there, if you want to enhance the experience there is a great place to go, namely the Stefaniewarte (The Stephanie Tower).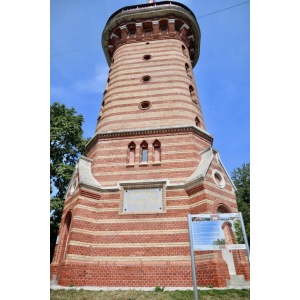 It was built in 1887, by the famous architects Ferdinand Fellner and Hermann Helmer. It got its name from crown prince Stephanie (the wife of crown prince Rudolf). The bricks of the Stephaniewarte tell an interesting story. You see, today we all know that one way to get to the Kahlenberg is taking the bus 38A, but in the old days there was another way, namely using the Zahnradbahn (a rack railway).
This railway operated from 1874-1919 (or 1922). From Nussdorf on it stopped in Grinzing and Krapfenwaldl. It had its final station on the Kahlenberg, right in front of the Stefaniewarte. The inauguration of this railway had a negative impact on the older Drahtseilbahn (cable car) that would take people to the Leopoldsberg at that time. Therefore, this cable car was shut down and eventually some of the bricks were used for the construction of the Stefaniewarte. Although the Zahnradbahn has been fully dismantled, the Stefaniewarte has remained. It was closed for many years.  It opened again in 1992 and later closed again for refurbishment work.
The latest inauguration took place in April 2018. With its 22 meters, from here you can see the Leopoldsberg, the Hermannskogel and all the way to the Donau City. The tower belongs to the city of Vienna and is managed by the Döbling Chapter of the Naturfreunde of Austria. On September 29, there is the opportunity to visit the Stefaniewarte as part of the "Tag des Denkmals 2019" and we are sure you will enjoy the experience!
The Tag des Denkmals is organized by the Austrian Federal Monuments Authority (Bundesdenkmalamt – BDA). The aim of the event is to make the public aware of the importance of cultural heritage and to raise awareness about heritage protection and monument preservation.
https://tagdesdenkmals.at/de/programm/wien/
Make sure to check out our private tours, if you want to learn more about Vienna's history. You can also find us on Instagram.